Discover. Design. Deliver.
A unique online portal has been discovered and designed in order assist for the excellent delivery. In addition to this, special regular academic audits as per the NAAC specifications are performed to ensure effective and error free delivery of academics.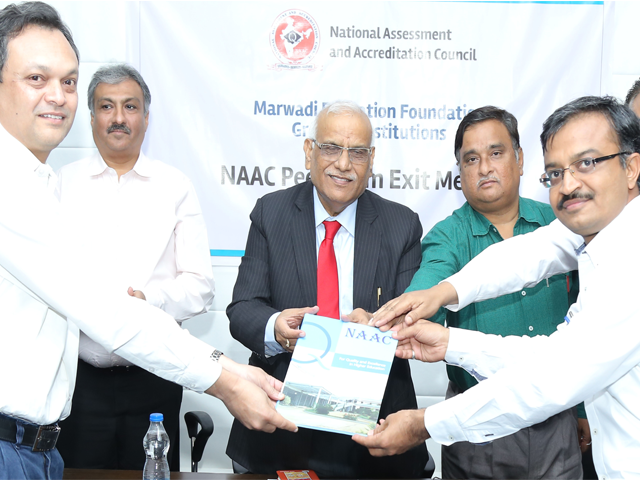 NAAC Certificate
Recently NAAC (National Assessment and Recognition Council) Peer Team visited Marwadi College Rajkot in the first week on November 2017. NAAC evaluates country's higher education institutions and it is an autonomous organization under Ministry of Human Resource & and UGC (University Grants Commission). NAAC is the Quality Eye of the Government of India and is bestowed with the sole responsibility of grading institution offering quality education. NAAC aims to put special emphasis on maintaining the quality of higher education in India. The accreditation of NAAC is determined by the functioning of the organization, and prior to accreditation, NAAC evaluate institute thoroughly on 7 different criteria and accord grade based on the institution performance on each of the following criteria. Teaching methodologies, Learning - Teaching and evaluation, Research, innovation and extensions, Infrastructure and Learning Resources, Student Support and Progression, Governance, Leadership and Management, Institutional Values ​​and Best Practices.
Individual Online Employee Portal
The University provides individual online employee portal, where individuals can apply, upload & download the Leave Applications, Salary Slips, Time Table, Individual & Students Attendance, Expense Voucher etc.